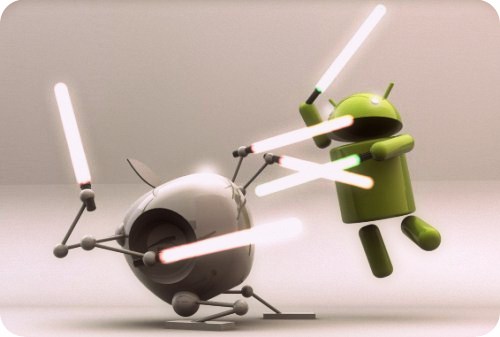 We all know the iPhone has a dedicated following by Apple fans across the world, but Android has its fair share of fanboys too. In fact, the Android market is showing huge gains all over the world. Although the iPhone seems to be doing well in the U.S., Android devices make up almost 70% of the global market share, compared to iOS' 19%.
I know there will be some people reading the title and saying "iPhone is a smartphone and Android is an operating system", but the fact that you can compare iPhone 5S (latest and the most expensive iPhone) to Android (just about any Android phone) already means that iPhone is going to have a big disadvantage in this dogfight.
In terms of specs, performance, and features, iPhone 5S is Apple's best to date. This doesn't mean it's as good as it could be, however. There are a few egregious omissions here — features that we not only want in our iPhone, but that we feel are overdue.
1. Play Store vs AppStore:
iPhone users used to be like we have this many apps and you don't, but right now both of the stores have around 1 million apps and games. Android offers many of the paid iOS apps for free. But that's not my point here. When you're purchasing an App on Android, you have a 15-minute window to see the app, test it out and see if it does what the description says it can. If you like it, bingo! If not, refund your money. AppStore doesn't have that. The only way to refund your money from Apple's store would be to physically contact support. That's a lot of hassle already right there.
2. Face Unlock on Android:
Android has both fingerprint reader and face unlock options whereas iPhone 5S doesn't have the first. Simple as that. I don't know why Apple doesn't get it, but in my personal opinion, Face Unlock is a lot safer. Why? Who knows what entities have access to your fingerprints?
3. Keyboards:
Yes, keyboardS as in plural. I can install any keyboard on my Android which is better than being stuck with the only option iPhone (iOS) offers. It is already proven that swype keyboards are a lot faster and easier to use than the iPhone's let alone some paid input apps that really rock!
4. NFC for mobile payments:
Instead of building NFC into the iPhone, Apple would rather have you use its Passbook system, which lets users store tickets, gift cards, boarding passes, and the like. It can handle some (but definitely not all) of the tasks that you might use NFC for. NFC also lets you beam content between devices just by tapping them together.
5. Replaceable battery:
The battery life on the iPhone is pretty "meh," but for the power users who are glued to their phones all day, it won't simply unacceptable.
We'd love to be able to carry an additional fully-charged iPhone battery that we could pop in whenever the first one bites the dust.
6. FM Radio:
I am from a country where Internet connection is still expensive and the network pretty much sucks. I can't enjoy listening to music live from the Internet. FM Radio gives me an option to save data and my nerves while enjoying my music.
7. Bluetooth:
That is also one of the biggest problems with Apple. Not only that you can't send anything to any phone via Bluetooth, you can't even do that between the iPhone and the MacBook.