Holi is a festival of no judgments perhaps, that's why most of our action can pass off under the garb of "bura na maano holi hai". Here is a list of people you will definitely confront during holi:
1. THE EARLY BIRDS
These are the bunch of people who kind of waits and prepares for Holi for months. Of course, they are the ones loaded with colours, balloons, rotten tomatoes and eggs. You name it, they will have it ready.
2. BEAUTY BLOGGERS
Well these are the kind of people who starts deciding prior holi: what kind of dress they will wear, which funky accessories they will pair up, the matching footwear, the colour of foundation, primer and what not. And othe day of holi they are Slathering in oil from head to toe, applying coconut oil, olive oil, sunflower oil, mustard oil, low fat oil and all the other kind of oils which exists on this planet so that their flawless skins remains flawless.
3. THE FORMAL ONES
Surprisingly, for some people, Holi, still means something as simple as putting a coloured tikka on the forehead. They will even ask your permission before smearing you in colours. Trust us, even these kinds of people do exist.
4. THE DIGITAL PLAYERS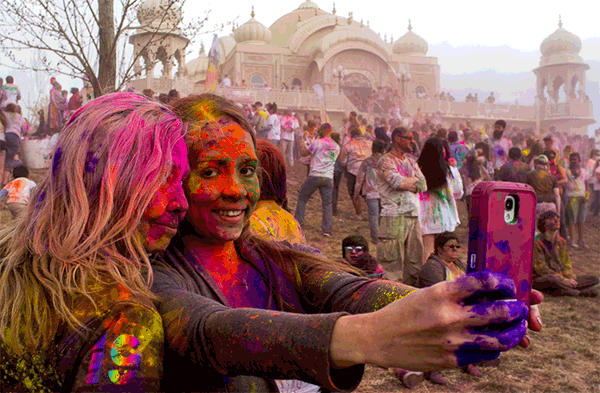 These are the kind of people who play holi with Damanjeet and 69 others. You will be considered very intelligent if you will crack the meaning of my prior written statement.
5. THE ONE WHO ONLY CARES ABOUT GHUJIYA

Then comes the type for whom Holi is a synonym of Ghujiya, "matlab yar wo kya h na holi hai toh ghujia toh bnti hai na?" .They leave no stones unturned to find the Ghujiya.
6. THE SINGER ENTHUSIATS
If you happen to bump into an enthusiastic bunch, chances are they will be singing the song Rang Barse, balam pichkari, rang laga de re,jai jai shiv Shankar out loud. Holla you people, you need to calm fuckin down.
7. BHAANG- ITES
Since this is the only legit day to consume copious amounts of this magic drink so one can see a lot many people who are literally super high on bhang. you can watch them either laughing out loud or crying endlessly 😛
We are sure we have missed so many types of people in Holi. you can pitch your observations by leaving us a comment! Tag your mates and share in which category do you fall.