NIOS cancels 10th and 12th March-April exams. Additionally, the previous performance of the students will now become the judgement parameter. Further, option to attempt the next exam is available with students if they wish to better their scores.
National Institute of Open School (NIOS) earlier shifted the exams to the months of July-August. Additionally, after shifting the exam again, the exams have now been fully cancelled.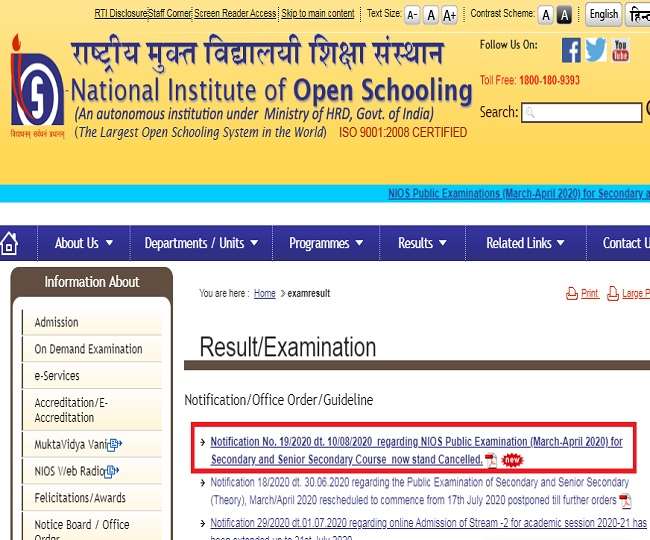 The Ministry of Human Resource Development(HRD) tweeted, "Keeping in view the health of the learners, the NSIO public exams to be held in July 2020 now stand cancelled. The results will be declared based on the assessment scheme finalized by the competent committee."
The institute released a notification that read that the previous performance of the students are the parameter for their judgements. Additionally, this decision is in accordance with recommendations and suggestions of the Result Committee.
The option to again attempt the exams is available for the students. Besdes, if they wish to improve their results, they are free to give the exams the next year. On-demand exams is also another option for the students who were attempting the exams.
The notification also read, "students with past performance in four subjects will be awarded marks. This will be the average of the best three performed subjects as theory performance."
Moreover, the notification also added, "For all learners who were to appear for the first time and their Tutor Marked Assignment (TMA) and/or practical marks are available, their performance will be calculated based on the basis of available TMA and/or practical marks."
For more information: https://nios.ac.in/media/documents/notification/Notification_Exams_Cancelled_Final_10082020.pdf