Indian government bans 59 Chinese apps. The list includes world-wide popular apps, such as Tik Tok, Helo, UC Browser,etc. The same apps have been banned due to security reason. The other prominent apps in the list are ShareIt, WeChat. Furthermore, the list is also inclusive of cloth shopping apps such as SheIn and Clubfactory.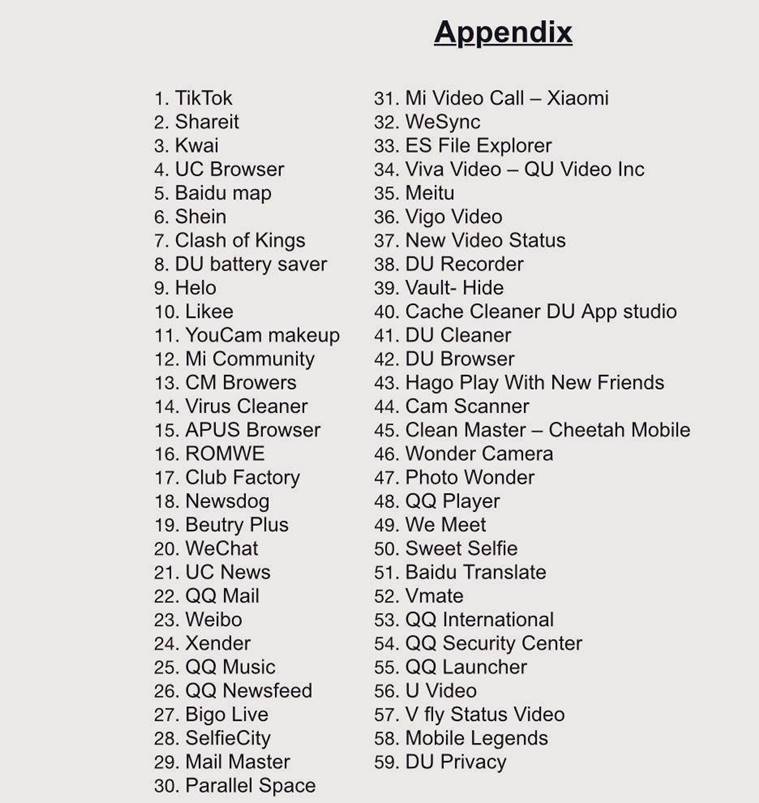 The government takes this decision amidst border tensions. Additionally, the action is an economic backlash from the Indian side. Earlier, 20 Indian soldiers died in the clash between the two countries. The incident took place on June 15. Moreover, casualties occured on the other side of the border too. However, the exact numbers are still not available. Although, some claim that number of casualties could go beyond 40.
Agencies informed violations from these Chinese apps. Additionally, the apps violate privacy concerns. Further, these apps act as spywares.
The government made announcement regarding the same. And within seconds removed the Indian Government account on Tik Tok. Additionally, more than 1 million people follow the same. Government put forwards arguments against these apps. Further, consider these apps to being engaged in activities that work against the safety of country. Government further alleged them being prejudicial to integrity and sovereignty of the country.
The government puts a ban on these apps under section 69 (A) of Information Technology Act. The release from government read privacy concern is a serious matter. Furthermore, the concern on security and privacy relates to 130 crore people of the country.
The move could act as major blow for the Digital Silk Route of China. Further, now many other countries may too follow the same path.
The announcement comes a day after Prime Minister, Narendra Modi came up with announcement of giving a befitting reply to China. Further, he also requested the public to boycott Chinese goods in his announcement. Additionally, he went on to talk about going Vocal for Local campaign. Moreover, also mentioning of the campaign by government, Atma Nirbhar Bharat.