The University of Delhi is set to release the first cut off list for admission of first year students to its undergraduate courses on Friday. About 30,72,674  candidates have applied for more than 60 Delhi University courses this year from May 22 to June 12, 2017.
Over the years, the university has seen a rise in applications for arts stream courses and BA programme took the lead this year with 1,40,619 applicants. The reason for the popularity of arts stream courses is due to there being no barrier for science and commerce students who wish to apply for a humanities subject.
The second most popular course after BA programme is BA (honours) English for which about 1,28,842 applications were recorded this year. Following at its heels are applications for political science with 99,372 applicants and economics with 94,476 applicants.
In the science stream, the most number of applications were there for BSc (hons) mathematics with 74,856 applicants. It is then followed by BSc (hons) chemistry with 73,638 and BSc (hons) physics with 72,183 applicants. The bachelor of commerce course has 1,08,525 applicants.
Geographically, most of the applicants belonged to Delhi, Uttar Pradesh and Haryana. Highest being of Delhi with 1,24,626 applications followed by UP with 64,557 applications. About 39,870 applicants belonged to Haryana region. Applicants from as far as Andaman and Nicobar Islands too applied.
The graph below shows the number of applicants from different regions across India: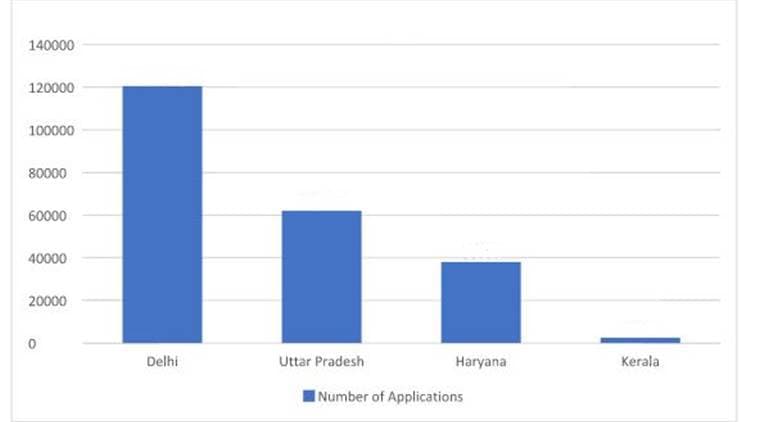 About 79,087 candidates have applied for Journalism for admission to six colleges including Lady Shri Ram College, Kalindi College, Kamla Nehru College, Maharaja Agrasen College, Delhi College of Arts and Commerce and Institute of Home Economics.
Here are some of the most popular courses and the number of applications received for them:
BA Programme- 1,40,619
BA (Hons) English- 1,28,842
BA (Hons) Political Science- 99,372
BA (Hons) Economics- 94,476
BA (Hons) History- 88,562
BA (Hons) Journalism- 79,087
BA (Hons) Sociology- 71,626
BA (Hons) Psychology- 71,247
BA (Hons) Geography- 70,267
BA (Hons) Hindi- 70,127
By Sakshi Jain of Collegedunia.com